Filipino Nurses Association of Quebec resources for internationally trained nurses
Filipino Nurses Association of Quebec resources for internationally trained nurses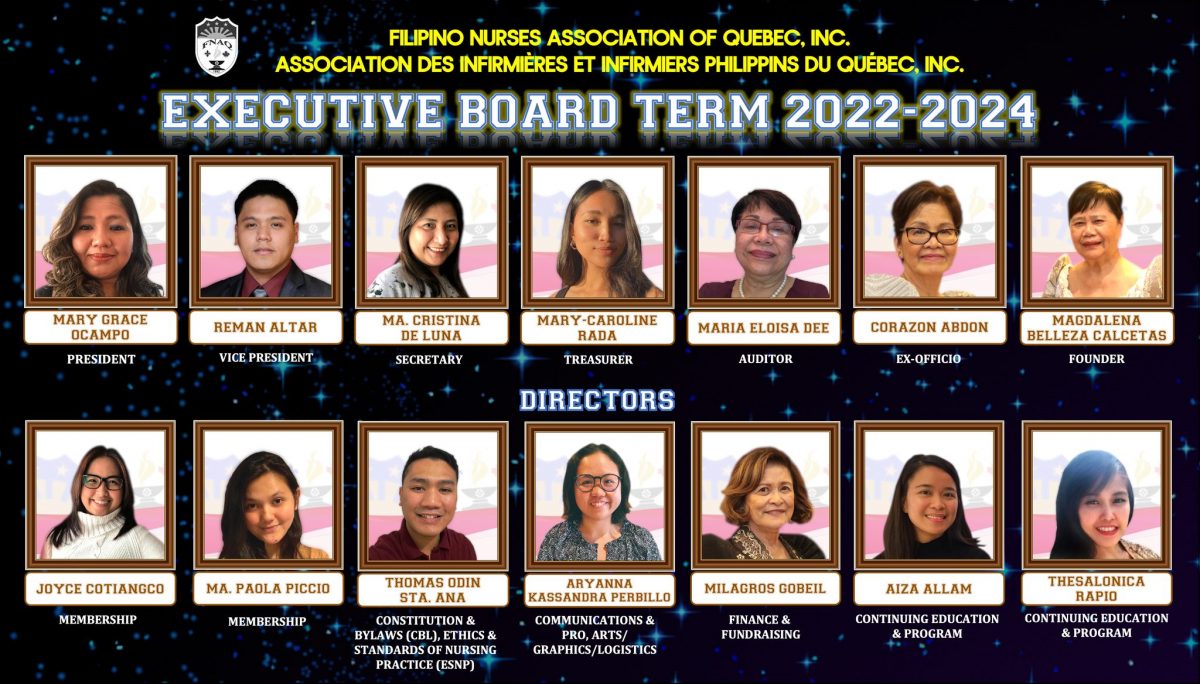 By Michelle Chermaine Ramos
LJI Reporter
The Philippine Reporter
The Filipino Nurses Association of Quebec is working on several initiatives to help alleviate the severe healthcare worker shortage while advancing the interests of Filipino nurses and other foreign trained nurses in Quebec.
FNAQ President Mary Grace Ocampo has been working at the Montreal Neurological Institute and Hospital for 16 years. She says that although the hospital doesn't specialize in treating COVID patients and only takes in mild cases, like many nurses across the country, she and her colleagues find themselves stretched thin across many patients leaving them burntout. When asked about the nurse-to-patient ratio in her unit, she said "During the day shift, the ratio is one to five max. And if you have a registered nurse assistant, you have seven patients with an RNA. In the evening, you have a maximum of six as one RN and with a RNA, eight patients."
Pushing for representation in the Ordre des infirmières et infirmiers du Québec (OIIQ)
Part of their plan to alleviate their burnout and inject more Filipino and foreign trained nurses into Quebec's hemorrhaging healthcare system is by pushing a candidate to become a board member of the OIIQ. It is their hope that someone can advocate for Filipino and other internationally trained nurses."Our goal is to have a Filipino candidate to be our voice in the OIIQ to help Filipino international nurses who want to come here. But the problem is French. If you want to become a board member of the OIIQ, you have to be fluent in French because all the meetings are in French. I attend all the general assemblies every year in November as a delegate and you vote for any new policy, procedure, or decision of OIIQ. That's all in French," Ocampo explained.
Providing resources and free review classes to help pass the licensure and French exams
Ocampo says she is not very fluent in French, but she can speak it well enough to express herself and read. As a healthcare worker and mother, she said it was crucial for her to learn the language as a Quebec resident. "I learned because I have no choice. One, I need it for my profession as a nurse and two, I need to support my children with their homework."
She was a practicing nurse for eight years in the Philippines before she immigrated to Quebec in 2001. Based on the evaluation of her previous professional experience, she only had to take a five-month course at John Abbott College in 2006. She was one of the first graduates of their program for the integration of internationally trained nurses.
"At that time, it was the only English school that accepted international nurses to get their nursing degree here." she explained. After passing the course, she got a job at the Montreal Neurological Institute and Hospital as a graduate pending license. "You had up to three chances to pass the OIIQ exam. If you failed, you had to start at the first year of nursing again, so you'd be back to zero," she said. After passing the OIIQ nursing licensure exam, she had to take and pass the French exam in 2010.
Applicants are required to pass their French exam within four years of completing the course at John Abbot. Refusing to take the exam when the OQLF (Office Quebecois de la Langue Française) calls results in an automatic fail. "As soon as you pass your OIIQ, they're going to send you to do your French exam. They will tell you the date and time. You will receive the notice only after you have passed your OIIQ. The nursing exam is in English, but even if you pass the OIIQ, you must pass the French exam no matter what. Otherwise, they will not consider you as a RN here Quebec," she explained.
She added that it is more difficult to pass the French exam now compared to when she did hers in 2010. The newly enforced French language law in Quebec has raised the French proficiency requirement so that applicants must have attained their French level 8 proficiency prior to registering for the course at John Abbott.
Ocampo said that FNAQ members who passed their French exams will help new nurses study for theirs by offering tips, practicing role-playing scenarios with French questions similar to the actual written and oral exams where they will be tested on their comprehension and ability to express themselves in common hospital work scenarios.
Helping and collaborating with other foreign trained nurses
Although the FNAQ was originally founded in 1992 for Filipino nurses, due to a popular request from the nursing community, they opened their membership to include non-Filipinos who share their values and goals in 2007. "We are a non-profit association and we help Filipino and non-Filipino nurses. Before I became the president, I joined FNAQ back in 2014. I was the Director of Education for six years because every term is two years. I taught Black, Indian, Korean, Chinese–not just Filipinos. We're giving a lot of free review classes to help them pass their OIIQ exam and to pass their John Abbot College entrance exam so we're doing math and now our project is the French simulation," Ocampo said.
HOW TO JOIN THE REVIEW SESSIONS
Contact them through their website and follow them on Instagram, Facebook, and Twitter. https://www.fnaq.org/
SEE RELATED STORIES:
Healthcare worker shortage: Predicted but not prevented? What to do?
https://philippinereporter.com/index.php/2022/08/12/healthcare-worker-shortage-predicted-but-not-prevented-what-to-do/
Quebec's Bill 96: Language law creates barriers to immigrant, indigenous, other groups
https://philippinereporter.com/index.php/2022/07/22/quebec-s-bill-96-language-law-creates-barriers-to-immigrant-indigenous-other-groups/
Nurses say Supervised Practice Program is 'a good move'
https://philippinereporter.com/index.php/2022/04/22/nurses-say-supervised-practice-program-is-a-good-move/