Damayan rediscovered in meeting with Dr. Milagros C. Guerrero, historian
Damayan rediscovered in meeting with Dr. Milagros C. Guerrero, historian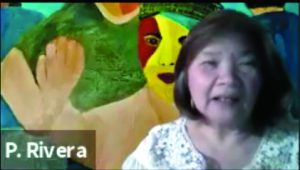 BONIFEST 2020
By Patty Rivera
Right after Filipino historian's Dr. Milagros C. Guerrero's audio-taped talk on Andres Bonifacio via Zoom,  she joined the audience live for the Q&A session. However,  she could not be heard by the other participants on Zoom.
Suggestions were made. The Philippine Reporter publisher and editor and FC-WJNet co-founder Hermie Garcia fielded suggestions and offers of help from Zoom participants. We needed a miracle to put the speaker back.
From among the participants from Manila, Dr. Temario Rivera, a colleague from the University of the Philippines' political science department, offered some help by making phone calls to Dr. Guerrero to inform her how she could get back online. This intervention allayed some fears that we would lose the speaker's presence online, but after many more minutes, it too, failed to work. Then Dr. Michael Charleston Chua (Xiao Chua) of De La Salle University's history department, came to the rescue with his computer savvy. By using a sound buffer on his phone, he asked Dr. Guerrero to speak on her phone connection with Dr. Chua and relay her thoughts. This time, it worked. The professor was online again and would have talked further had the meeting more time to spare.
It took about 35 minutes to have the hitches discovered, uncovered and solved, with Zoom participants offering their help to keep Dr. Guerrero online. The conversation among participants kept going, as they offered hope and concern on what could be done to solve the problem.
In Filipino, we call it damayan, working together, a Filipino ethos that has not lost its meaning in today's competitive world.
Or we can use Andres Bonifacio's nom de guerre when he signed up to join the Katipunan: Maypagasa, or There's Hope. The meeting's speaker and audience never lost hope, as if Ka Andres's lasting message still rings to the present.
Coincidentally, Dr. Michael Chua ((6) Xiao Chua | Facebook), recently announced the release of Maypagasa: Ang Bantayog ni Andres Bonifacio, which he wrote for the National Historical Commission (The State Documentary on Andres Bonifacio ("Maypagasa" with extended interviews) – YouTube).
—————————–
See related stories:
Life of revolutionary hero commemorated with noted historian By Althea Manasan
Remembering the Katipunan Revolution By Dr. Milagros C. Guerrero, PhD
NOTEBOOK: People-powered movements make history By Hermie Garcia
The Making of BoniFest 2020 By Mila Astorga-Garcia