Life of revolutionary hero commemorated with noted historian
Life of revolutionary hero commemorated with noted historian
Bonifacio Festival 2020 Online
One-hundred and fifty-seven years after the birth of Philippine revolutionary leader Andres Bonifacio, one of the country's leading historians urged Filipino-Canadians to remember him as a preeminent national hero and key figure in "our odyssey toward nationhood."
"How do we remember, as a community, as a nation, the most important aspects of our collective life?" Dr. Milagros C. Guerrero said during the second annual BoniFest, held virtually on Nov. 29.
"The only way to remember is through history, whether oral or written, through relics and important objects that come to life in the process of recapturing and recalling."
After powering through a series of technical difficulties, Dr. Guerrero, a retired professor of history at the University of the Philippines, managed to deliver her remarks and led a lively Q&A session from her home in Manila, thanks in part to impromptu technical support from the evening's attendees.
Her keynote speech, "Andres Bonifacio and the Revolution of 1896-1902: Lessons for Filipinos in the 2020s," was the highlight of this year's BoniFest.
The event, first held as BoniFest 2019 at Toronto's City Hall but moved online this year due to the COVID-19 pandemic, commemorates and celebrates Andres Bonifacio, the leader of the Philippine Revolution of 1896. As leader of the Katipunan, he worked to topple Spanish colonialism that ruled the country for more than three centuries.
BoniFest was organized by the Filipino-Canadian Writers and Journalists Network (FC-WJNet), in partnership with Malaya Movement Canada in Toronto.
In her presentation, Dr. Guerrero, who is best known for co-authoring the classic textbook A History of the Filipino People, cited historical documents and offered insights on Bonifacio's contributions to the struggle for Philippine independence.
"Before La Liga Filipina was established, Bonifacio and his associates may be credited for autonomy of thought, vision and course of action toward preparing for and launching the revolution," she said.
"There were no 'thought leaders' to push or dissuade them or any secret text from outside the country to influence them."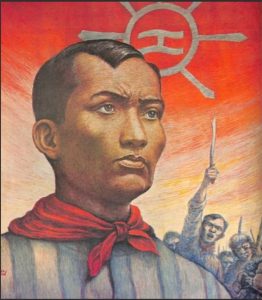 She also opined the lack of reverence offered to Bonifacio in comparison to one of his more well-known associates — fellow national hero Jose Rizal.
"In the case of Jose Rizal, it is sometimes difficult to cope with the immense and formidable Rizaliana, both excellent and mediocre. Our public historian, Ambeth Ocampo, continues to scrape the Rizal barrel to provide more data on the great hero," Dr. Guerrero said.
She expressed the importance of monuments when it comes to remembering history, and described the lack of care shown to markers dedicated to Bonifacio and his fellow Katipuneros in the Philippines.
"The most important monument to Bonifacio and the revolution was, of course, the gigantic monument crafted by the master artist and sculptor, Guillermo Tolentino, which stands — where else? — but at the Monumento, a jeepney and bus landmark," she said. "You don't want to go there on a workday."
Dr. Guerrero's presentation was just one segment of an evening filled with pre-recorded musical performances, poetry readings and messages of community solidarity. Over the course of the three-hour event, more than 60 attendees joined in to listen to the talk and watch a showcase of Filipino-Canadian talent.
Hosted by Toronto multi-disciplinary artist Michelle Chermaine Ramos, BoniFest opened with opening remarks from Hermie Garcia, co-founder of FC-WJNet and publisher and editor of The Philippine Reporter.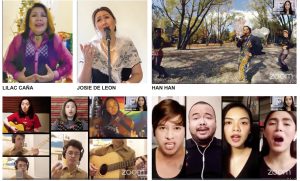 "We are emulating the leadership and revolutionary spirit of Bonifacio, because he is of the masses," Garcia said. "As Filipinos in the diaspora, the least we could do is support the movement for change in our home country in many ways, and BoniFest is only one of them."
Marissa Corpus, spokesperson of Malaya Movement Canada, delivered a message from her organization.
Among the musical numbers was Bayani, composed by Lui Queaño and sung by Karl Ramirez of PORDALAB Band; Bayan Ko, performed by singer Josie De Leon and accompanied by images of frontline healthcare workers; and Pag Ibig Sa Tinubuang Lupa, based on a poem by Bonifacio and sung by soprano Lilac Caña.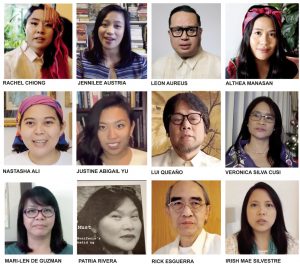 Toronto-based hip-hop artist Han Han performed a high-energy musical number, complete with backup dancers and a 360-degree camera, and members of Anakbayan Canada from across the country used the power of technology to join together and perform the folk song Gumising Ka, Kabataan (Youth, Rise Up)!
Similarly, a previously packaged performance of about 40 Filipino theatre artists, each one isolated in their own homes, was replayed, displaying their powerful choral interpretation of Di N'yo Ba Naririnig, the Tagalog version of Can You Hear the People Sing? from the musical Les Misérables, set during the French Revolution.
There were also a reading of Bonifacio's original poem by journalist Erie Maestro participating from Vancouver, while Toronto-based poet Patria Rivera read her original poem based on Andres Bonifacio's piece, Ang Dapat Mabatid ng mga Tagalog. A musical version of one of Bonifacio's poems was performed by children from the Barangay Vancouver-Cedar Cottage.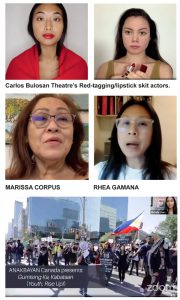 The Carlos Bulosan Theatre's Disconnect(ed) Collective turned their attention to the headlines, with a video showing women putting on red lipstick and donning red outfits, referencing the #NoToRedTagging and #YesToRedLipstick campaigns sweeping Philippine social media.
Several community organizations and politicians also offered video messages of support and solidarity, including Malaya Movement, University of the Philippines Alumni Association of Toronto, Philippine Canadian Charity Foundation, Kalayaan Cultural Community Centre, Migrant Resource Centre Canada, Bayan Canada, and Filipino Canadian Students Association.
Ontario MPP Doly Begum, who introduced a bill last month to recognize June as Filipino Heritage Month in the province, also offered a message.
"Events like this give us the opportunity to celebrate the rich arts and cultures of the Ontario Filipino community," she said. "Members of the Filipino community play a critical role in my riding of Scarborough Southwest and across this province."
BoniFest 2020 had attracted not only an engaged audience, majority of them attending until the end of the three-hour Zoom event but also over three thousand views since it was livestreamed on Facebook.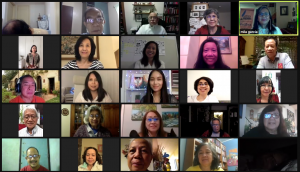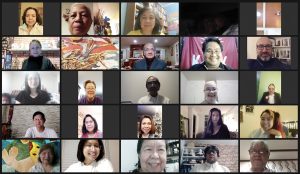 —————————–
See related stories:
Remembering the Katipunan Revolution By Dr. Milagros C. Guerrero, PhD
NOTEBOOK: People-powered movements make history By Hermie Garcia
The Making of BoniFest 2020 By Mila Astorga-Garcia
Damayan rediscovered in meeting with Dr. Milagros C. Guerrero, historian By Patty Rivera
FEEDBACK unsolicited, unedited to BoniFest 2020