Remembering the Katipunan Revolution
Remembering the Katipunan Revolution
BONIFACIO PAPER-TORONTO (BoniFest 2020 – Nov. 29)

Magandang Umaga, Magandang Hapom, Magandang Gabi wherever you are.
I am deeply honored to speak before you, dear mga kababayan in Toronto, on this 157th birthday of Gat Andres Bonifacio and the Philippine Revolution of 1896-1897 and the lessons and insights from this great moment in our odyssey toward nationhood.
As individuals, how do remember the most important aspects of our life? Then, how do we remember, as a community, as a nation, the most important aspects of our collective life. How do we remember those events that took place even before we were born and have become imbedded in the very core of our being. Hopefully, happily, and as Hemingway would put it, they become "a moveable feast" that we carry with us wherever we go. The only way to remember is by confronting history, whether oral or written, through relics and important objects that come to life in the process of recapturing and recalling. The very task of retrieving, in the midst of, and in the mists of forgetting within the long process of research, also becomes an important event or chain of events.
In the case of the Philippine Revolution and the role played by Andres Bonifacio, there are factors that mitigate against such remembering. The K-12 curriculum provides a few units, within a very limited amount of time, to the study of Philippine History, in a manner that can be called patay-dampot – biglang laglag that the student graduating from high school is ill equipped to understand Philippine history as taught in the tertiary level. Thus history, whether in the secondary or college level merely becomes a requirement of several units that must be completed in order to graduate. And then we unleash to the world young citizens who bring with them misconceptions and myth in Philippine history.
That is why activities beyond the classroom is highly appreciated and to be commended, such as this ongoing Bonifacio Festival in Toronto.
Here in the Philippines, the urge to remember and the process to do so is helped along by monuments and statues, literature and historical treatises. In the case of Jose Rizal, it is sometimes difficult to cope with the immense and formidable Rizaliana, both excellent and mediocre,. Our public historian, Ambeth Ocampo, continues to scrape the Rizal barrel, to provide more data on the great hero. Outside of these, we are reminded of Rizal by the spacious Rizal park which was formerly a killing field and the presence of products reminding us of the hero: Rizal province, Rizal University, Rizal Avenue, Rizal Insurance Co., Rizal Theater, Rizal Cigarrillos, Rizal Vinegar, Rizal Kerosene, and Rizal Posporo (never mind that it was Bonifacio who lit the fires of revolution).
To be sure markers/monuments were also installed in places that are significant to the heroism of Bonifacio But what have been the attitude of the general populace to these markers. For instance, the street where the Katipunan was established was, until recently, filled with trash and garbage. In my recollection, the marker was literally hanging by a thread on the wall of the building which used to be residence of the wealthy Deodato Arellano a charter member of the Katipunan, its first president and a close friend of Bonifacio. When the marker fell off, someone attached it to plinth giving the marker a more decent appearance. For certain, the place would be spruced up on the date of the KKK's founding for the satisfaction of city officials who deign visit the sacred place. Eventually the accessoria gave way to a new building and the marker was accompanied by a bas-relief flush into the wall, giving the characters depicting the member/founders of the Katipunan as if they were perpetually waiting for a bus ride and never getting one.
In Quezon City, there is also a marker for Bahay Toro, part of a much larger area where assembled, in August 1896, a large number of Katipuneros prior to the kapasyahan/ decision to commence the revolution This was in Project 8, at the edge of a large community of informal settlers. In 1995, just a year before the centennial of the revolution, we saw the marker also almost detached as if hanging by a thread. Our examination of the marker prompted a small group of young girls to break into a ditty. "Bahay Tae, Bahay Tae, Bahay Tae" I shushed them and asked: Kilala nyo ba si Bonifacio? No, they said. "Di po kami marunong bumasa. They broke from us and continued with their song "Bahay Tae, Bahay Tae, the song's content a pointed reference to life in the slums.
There is now in the Barangay Toro, Project 8, a tableau showing the punitan or tearing up of the cedulas during the "Cry". It is depicted by rigid statues with matinee actor's faces devoid of any emotion, At the very least, I expected some show of exhaustion or anger. There was none.
The most important monument to Bonifacio and the Revolution was of course the gigantic monument crafted by the master artist, sculptor and gifted espiritista Guillermo Tolentino, which stands, where else, but at the Monumento, a jeepney and bus landmark. You don't want to go there on a workday, anytime of the day up to nearly midnight. Amidst the blaring of horns, the interminable traffic and the shouting of bus conductors and street hawkers, the stoic figures of Bonifacio and the revolutionaries appear unperturbed. On the ground often sat sidewalk vendors and cigarette peddlers, bombed out drug addicts with glazed eyes, and beggars catching their breath. Did anyone amonst them perhaps thought of the brave figures above them?
A new addition to the Bonifacio monuments was the contribution of the City of Manila, just to the north of City Hall before one approaches Quezon Bridge, which provides a very modern and radical perspective. But like the marker in Bahay Toro, its newness has not deterred the disrespect and indifference of people who might not have recognized Bonifacio's fierce countenance and the air of anger amonst the revolutionaries in stone. For time and again, an irate Mayor Isko Moreno has had to bring a truckload of cleaners with power hoses to remove the cesspool of human excreta in and around the monument, within smelling distance by the Supremo himself.
And so, with due diligence and proFoundly aware that our task in remembering is to seek the truth so far as historical evidence may support it, we ask ourselves the question, what in the saga of Bonifacio and the Katipunan needs to be remembered, kept close to heart and mind, and what are those things (fictions and factoids) that need to be discarded. In partial answer to these questions, I would like to share with you some salient points on the Katipunan Revolution, some not yet introduced/ imbedded in textbook historical literature.
FIRST, Historical Continuity and the Declaration of Independence.
Before the La Liga Filipina was established, Bonifacio and his associates may be credited for autonomy of thought, vision and courageous course of action toward preparing for and launching, the revolution. There were no "thought leaders" in their past to push or dissuade them or any secret text from outside the country to influence them.
I must say to that young high school teacher who said, in a conference some time ago, that the Propaganda movement (which is discussed by Professor Teodoro Agoncillo in our textbook, History of the Filipino People) was a prerequisite to the Philippine Revolution. "Kasi, Mam, katabi ng chapter on the Revolution."
The La liga Filipina was founded on June 3, 1892. If we were to scrutinize more closely the aims of the organization, we would conclude that the program of the Liga would become the basis of the establishment of an independent national community that would replace colonial society. If we were to consider the vacillation of leading Liga members, that would be far off in the future, not in 1896, but maybe not in 1897 or even 1900. But two days later Rizal was arrested and then exiled to Dapitan. On July 7, the Katipunan was established. It would seem therefore that the next step for the more radical members was to begin thinking of a revolution.
Unbeknownst to many at that time and to many teachers and students of Philippine history at present, was that, six months earlier, in January 1892, Bonifacio and his associates, who would go through thick and thin with him after the cry at Caloocan had already declared the independence of the Philippines, had already begun to organize the structure of a future free and sovereign country and its government, had laid out the framework of a constitution or by laws. This is clearly shown in a three-part document, aptly entitled by its creators "Kasaysayan, Pinagkasunduan; Manga daquilang kautusan" translated as "Narrative, Covenant, and Principal Orders." It forms the first part of Dr. Jim Richardson's exhaustive work, The Light of Liberty: Documents and Studies on the Katipunan, 1892-1897. This book should be a required reading for students of the history of the Philippine Revolution as well as Philippine historiography.
As we shall see:
Movements have narratives. They tell stories because they are not just about re-arranging economies and politics. They also rearrange meanings. And they are not just about redistributing the goods. They are about figuring out what is good. Marshall Ganz
The "narrative" is unmistakably a history of the Philippines, during three centuries of its colonial existence (tatlong siglo nang mahiguit) sans specific dates and personae. It speaks of the unrelenting cruelty of the Spaniards and the indios' degradation
Sadly, we do not have a social history /histories of the Philippines under Spain, largely because of the diffidence of Filipino students of history toward the Spanish language which would have equipped them to use the massive archives here and in Spain. The confusing statement of Professor Teodoro Agoncillo that there is no Philippine history before 1872 made many students distance themselves from the Spanish sources.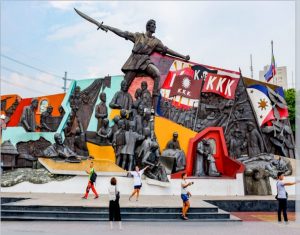 From whence come did these litany of complaints in the Kasaysayan? Most certainly they did not only come from their contemporary present but from decades past, starting from the time Legaspi installed himself as governor general. The Filipinos resisted Spanish power and authority almost from the very beginning. You could count more than 100 disturbances (variously called rebeliones or sediciones, as well as resistances labeled as motin, manifestaciones, demostraciones, and alborotos). Leaders and followers suffered horrific punishments. Just one example, the leaders of an uprising in Marikina were placed in a raft to be devoured by crocodiles while female rebels were given to and "punished" by vagamundos (ruffians) with humiliating sexual assault and abuse. Those who could not stand life under the bells (bajo de la campana) escaped to the mountains, earning the most insulting label, remontados, those returning to the mountains like wild animals the Spaniards perceived them to be. Textbook history would say that Spain's divide and rule policy was successful. But this generalization elides one important painful truth. In the many uprisings, the Spaniards issued the orders, complicit Filipinos obeyed not because of a noble purpose but because of the opportunity to pillage and plunder. In Tagalog, these two words mean pandarambong, a word we still use for the unconscionable thievery committed by many a government official. In Tagalog, those who are complicit are kasapakat and kasabwat.
So, in the Katipunan's Kasaysayan, issued long before a single cedula was shredded into many pieces, nagkapira-piraso, the Katipunan determined that this exploitation and degradation must stop.
Ang bayang ito, ay, ang atin; ito ang napakabalita sa pagka duhagui; bayang lubos na mapag tiis, hangang sa maalipin; ¡oh Pilipinas !  ¡sa aba mo !  ¡oh bayan naming tinoboan ! tangi kang lubos sa ibang kapamayanan; kung sa kaniyay natampok ang bayang anak na nagpuri o maghangad ng bayang ikakagaling o ikaguiguinhawa, sa iyo ay hindi gayon, inuusig at pinarurusahan ng parusang kalaitlait at lihis sa katuiran; ang paisaisa mong anak na sumisita sa iyo, ito rin at kinukutia sa sariling buhay ang ibang hindi makaimik at inilalathala ang puri na kusang guinagahis.
Kaming nag tibay (firmantes) sa ibaba nitong kasulatan ay nagka isang loob at panukala na bunutin sa kaalipinan, kadustaan, kaapihan at iba pang maraming kasukaban na tinitiis nitong sang Kapuloan na kinamkam at linupig nang walang awa ng manga matakao at dayukdok na kaniya, na ang papangap Halimao.
This country is ours; this chronicle of oppression is ours.  A country full of suffering, to the extent of slavery.  Oh Philippines!  How wretched you are!  Oh country of our birth!  Had she wanted you to progress, she would have given you advantages over other peoples; had she desired your welfare, she would have treated you like a favored child.  But you have not been treated like this.
Having regard to all the abuses just narrated, the acts perpetrated by the Spaniards that open deep wounds in our heart, and for the reasons that are enumerated above, we affirm below this document that we are of one accord and conviction to extirpate the oppression, maltreatment, enslavement and many other excesses that this subjugated and oppressed Archipelago suffers at the hands of its pitiless, ravenous and bestial oppressors.
(To be continued next issue.)
—————————–
See related stories:
Life of revolutionary hero commemorated with noted historian By Althea Manasan
NOTEBOOK: People-powered movements make history By Hermie Garcia
The Making of BoniFest 2020 By Mila Astorga-Garcia
Damayan rediscovered in meeting with Dr. Milagros C. Guerrero, historian By Patty Rivera